ESL this year hasn't been particularly enjoyable, unlike last year, which troubled me ideologically but was a joy to teach. I am primarily challenged by a hard truth: my students simply aren't interested in learning English. In fairness, they've had a tough year, the details of which I won't share. When I arrived, they weren't grateful, but rather annoyed that they had a teacher who expected them to speak English rather than watch movies.
Most are eager to learn, having been out of regular school for a year or more. They're just not  eager to learn English, and they particularly don't want to speak English. I've been having trouble getting any conversation going; my questions are met with either utter silence or a request, in Spanish, that someone give them a one word answer to get me off their backs.
I can focus on any content, anything that sparks their interest while reading or at least hearing English.  I taught them ratios and fractions. We constructed some robots. They enjoy grammar, primarily because they just like completing worksheets instead of talking.  I showed them Zootopia, a clever little movie, and tied it into "prey" and "predators", which then expanded into "producers", "consumers", and "decomposers", then into "herbivores", "carnivores" and "omnivores". This went over pretty well, so I found an ESL science book and reinforced all that with pictures and text.
I'm a teacher tailor-made for covering a wide range of topics, and I've improved their compliance and cooperation. But they are still a sullen lot, with no cohesion and they aren't that crazy about me, which is a hard ego hit for someone who's quite used to being "favorite teacher".
So I needed a day like last Friday.
Notably, Reyes was absent. "Behavior problems" and "ESL students" don't see a lot of overlap; unhappy ESL students act out by passive inaction, in my experience. But Reyes, a junior from Mexico, became a huge behavior problem once the others started showing even minimal compliance and improvement.  He chases girls around the room. He pulls his hood over his head when he's trying to ignore me. He constantly speaks Spanish, interrupting me and making crude comments  that cause the other Spanish speakers to giggle.  He refuses to speak English, even simply to ask to go to the bathroom. He's not a bad kid, really, but nonetheless a disruptive force in the room was gone, and that mattered a lot.
We'd left the day before on "food web" and "food chain" and I brought the image of a spider web up again, intent on explaining in some way  that the original meaning of "web" has transformed, to start to get across the notion of metaphor. Then  I googled "web" without spider and bring up one of the results.
You get this sound, in ESL classes–at least you do in mine. It's a genuine "Aha" of comprehension and connection. It's a great sound.
"See? We use 'web' to describe the connection because it's many connections to many other connections. It's not one way up or down. Now look at 'chain'" and I googled the word and tabbed to images.
Again with the "aha".
"See the difference? In a chain, every link is directly connected to only two. See this one? In English, we often use the word 'chain' to mean one up and one…."
"Down!" they chorused.
"So when we talk about food web, we are talking about many to many.  See the many connections? All these animals exist in a web, with different relationships. Now look at a food chain. See the clear cycle, or circle?"
So far, so good. Then I lost them: "First, we're going to focus on food chain, which is a basic way of seeing who is eating, and who is being eaten."
I was quite surprised to hear a big groan from Allie. "I HATE English!!!"
Taio agreed. "Both eating! Why eaten sometimes, sometimes eat?"
Ah. "So when is it eat? When is it being eaten?"
Allie threw up her hands. "They are both the same thing!"
"No, they're just the same verb root. But…. Huh. Let me think."
"See? English is stupid!"
"No, no, I get that! And you're right. English can be insane. But I'm not teaching you verbs right now. I just want to figure out how to make you see the difference. Oh, wait."
And I quickly googled up "rabbit eating carrot".
"The rabbit is eating the carrot. The carrot is being eaten by the rabbit."
Pause, but I could see they were thinking. So I googled up "fox eating rabbit".
"The fox is eating the rabbit. The rabbit is being eaten by the fox. So if you are eating, you are the one getting food."
"If you are eaten, you are the food?"
"Exactly!"
Elian stood up and came to the front by the projector. "Who eats fox?"
"Great question. I don't know? Who would kill and eat foxes?"
"Birds?" Allie again.
"Hey, that's an idea." I google "eagles eating foxes".
"So then someone eats eagles?" Taio asked.
"Maybe. But some predators aren't eaten. Like humans. We kill other predators, though, because of competition. So we kill foxes because foxes will eat our chickens and rabbits. Or we kill eagles because we like their feathers." Elian nodded, and leaned against a desk, still up front.
"Let's try another chain." I google "mouse eating".
"Elian, is the mouse eating or being eaten?"
"Eating!"
"Yes! So Taio, what is happening to the blackberry?"
"The blackberry is…eaten?"
"Allie?"
"The blackberry is eaten by the mouse?"
"You got it! So who eats mice?"
"SNAKES!" I had all seven kids playing along as I google snake eating mouse.
"The snake…" I prompted.
"the snake is eating the mouse!" even my non-English speakers, like Chao, was moving his lips, at least.
"THE MOUSE IS EATEN THE SNAKE!" announced Hooriyah, my lone Afghan student.
"No. Eaten BY," from Elian.
"Yes. The BY is very important. Otherwise, in English, it sounds like you are saying 'eating'."
"That's why I don't like English. Eaten and eating sound the same!" Allie nodded.
"So remember the 'by'. That will help."
"Do snakes eat deer?" Taio asked.
I can't begin to explain how pumped I was. We'd now kept steady conversation for close to ten minutes, where everyone was chiming in without prompting. So I googled "snake eating" and we paged down looking.
"THERE!" Taoi pointed.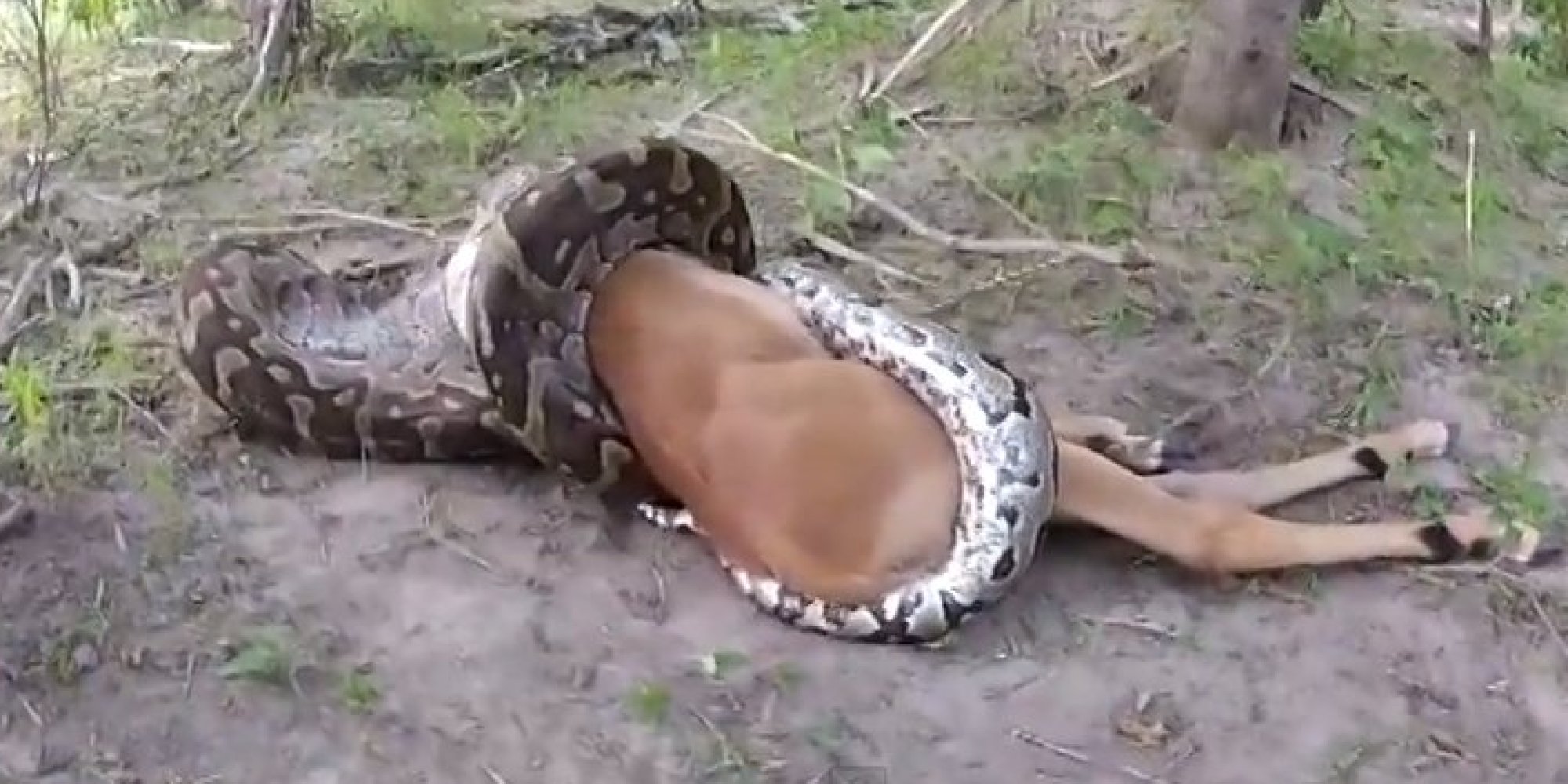 "I have a question," Allie announced. "What do you call that word that snakes do to…." she paused. Kept pausing and then shrugged. "I don't know the word."
"Crushed? Constricted? Squeezed?"
Allie had come up to join Elian, standing by the Promethean, looking at the images for one specific thing. "No. The other way. Before."
"Poison? Some snakes bite their prey and the poison kills or at least paralyzes–makes the animal not able to move."
"No, not that. It's…." and here Allie gave up  in frustration, looking at me, trying to "think" the word at me.
Up to now, I've been doing a good job, but it was all ad hoc teaching, taking what comes.  But I don't think all teachers grasp the essential moments of their job. This was an essential moment and I made it a great one.1
Nothing is more important to me in that minute than identifying Allie's word. Writing this a week later,  I have a vivid memory of standing next to the projector, looking intently at Allie, oblivious to everything else, trying to grab the word out of her brain. And best of all, I could see that she knew this. She knew I was absolutely intent on figuring out her word, that I wanted this, that I wanted to be useful because hell, she's stuck in this class learning a language she hates, can't the teacher give her information she actually wants? For once?
My second great moment arrived, but I'm not sure it's a pedagogical moment or just that of a very good and quick thinker. Because instead of trying to prompt more information from her, I started thinking about snakes. What are the ur-Snake things? I'd gotten constriction, gotten poison, what other snake categories are there?
"Cobra?" Allie stared intently at the google results, but shook her head. "No, it's…" she paused again, giving up.
"What do you call that?" Elian pointed.
"That's a hood. Cobras have a really distinctive look. That's why I thought maybe Allie was thinking of them."
More ur-Snake. What else? I stare at the cobra images, and suddenly, miraculously, I think of Indian snake charmers.
"HYPNOTIZE!" I practically shouted.
"YES! WITH THE EYES!" Allie was overjoyed. "It makes the animals….something."
"Obedient. Calm."
"What's hypnotize?" Hooriyah.
Third great moment, back to teaching. How to show kids what Allie is thinking of, and the meaning of "hypnotize"? I switch over to youtube.
"This is a famous Disney movie. Has anyone seen it?"
"Yes!" Allie was over the moon with excitement. "This is what I was thinking of!"
So as the scene progressed, I showed the students the broadly caricatured meaning of hypnotize.
When this was over, Allie rested content, sitting back down.
"How do snakes hypnotize?" Taio asked, saving me the trouble of raising the issue.
"I don't think snakes actually do. I think people just think it is true."
Allie nodded. "My neighbor has a snake. He says they don't hypnotize."
So I googled again, and we found a few highly verbal sites that seemed to deny it, but I didn't dwell on this much.
Final pretty great moment in teaching: I brought it back to food chains!!
"So. Remember where this all started? Eating and….."
"Being Eaten!"
"Let's go through some food chains that you might see in a farm." I wrote on the board.
corn->mouse->owl
"Owl?" asked Hooriyah, and I googled "owl eating mouse".
"So now we know three bird predators: owl, hawk, eagle."
Another food chain: wheat->caterpillar->black bird
"What's wheat?" Taio again. "I don't know wheat."
"Every country has a primary grain. In South America, the big grain is corn. Maize." Elian nodded. "In China, in most of Asia, it's rice. In Europe and in America, also the Middle East, wheat is big."
Allie, who has Brazilian parents but was born in Germany, nodded. "Yes. Bread is made from wheat."
"And the Germans do amazing bread."
"Bread!" Suddenly Taio is galvanized. "We have bao bread!"
I know a lot of Chinese food, but this one was new, so I googled.
"Oh, like in pork buns! I didn't know that."
"Dumplings. I hate dumplings," Maria, Salvadoran, my best English speaker, had been missing from most of the class and had just arrived.
"No, this isn't dumplings." I corrected her. "Dumplings are like shu mei. It's food wrapped in a pastry." Chao sat up and chattered excitedly to Taio, who answered in English.
"Yes, that's dumpling."
I grinned at Elian, my only repeating student. "This feels like last year," and he smiled in recognition. Last year, we'd talked about food in class all the time, going around the room talking about various foods just for fun–what they eat in Afghanistan for breakfast, what they eat in Vietnam for dessert, why Westerners make the best desserts (that was my claim, anyway, although my students roundly disputed this assertion).
We finished up with explanations of caterpillars and cocoons, and discussing the difference between blackbirds and crows–"One is just a black bird, the other is a blackbird."
The bell rang off for once on an animated conversation.
I started this article a week ago, and was originally going to finish it with the hope that my class had turned the corner. My perpetual lagtime in writing allows me to say that it is better. Last week was a distinct improvement on every day that came before the great moments. More conversation, less lag time, and a much improved sense of camaraderie, even Reyes is speaking with a bit less prompting.
Before last Friday, I'd been telling myself regularly that tough classes are good for me. They keep me humble, keep me looking for answers, for methods, for strategies to help my students want to learn.
Besides, I'd tell myself grimly, tough classes make the triumphs all the sweeter.
I love being right.
*********************************************************************************
1Again, the great moment is mine. I'm standing there going oh, my god, this is a great moment in teaching, in my life. For me! The kids, hey, if they liked it, that's good.